L.E.D. Tail Lights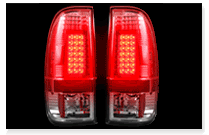 Recon Truck Accessories LED Tail Lights are a complete replacement for the stock OEM tail lamps on your truck. Give your truck the custom look with the fully fuctional LED complete replacement tail lights.

The Recon L.E.D. Tail Lights illuminate with Light Emitting Diodes in all functions such as running light, Brake Light, and Turn Signal. All Recon Accessories LED Lighting products meet DOT/ SAE Standards and look great on your vehicle. LEDs provide extra brightness and longer life than conventional bulbs.

RECON lighting products feature only the brightest LED lights. They last up to 80 times longer (tens of thousands of hours) and are up to 10 times brighter than other LED lights commercially available. Recon LED taillights are much safer, brighter, more intense, longer lasting, and better looking than their ordinary factory installed taillight counterparts.